Post-Viral Fatigue and Over-Training: How to Avoid, How to Cope, How to Recover by Daniel Rees
📸 by Jodi Hanagan
---
Post-viral fatigue syndrome is nothing new. Yet in the light of the Covid-19 pandemic, it has become a far more prevalent issue, with swathes of people struggling to make a full recovery from the initial infection. Dubbed "long Covid", the drawn-out symptoms include severe fatigue, breathlessness, and anxiety. Below, I share my experience of post-viral fatigue, how I failed to avoid it, and what I am going to do differently this time around to ensure I don't make the same mistakes. I hope this article will be especially relevant to athletes who are recovering from Covid-19, or have a habit of overtraining on a regular basis.
---
All senior athletes are prepared to accept that setbacks are simply part of their career. Whether it be injury, illness, underperformance, misjudgement, or just sheer bad luck, every athlete will hit a rough patch where nothing seems to be going their way. Often what keeps us going through the leaner periods is grim determination, bloody mindedness, or merely the hope that the highs will outweigh the lows during the course of an undulating career.
Consciously or subconsciously, athletes navigate the common pitfalls every day by mastering the basics. Training hard, resting properly, eating and hydrating appropriately, whilst maintaining a healthy balance between a home life and a career. Throw in the vicissitudes of fortune that come with daily life, and it can be an incredibly tricky balancing act.
Inevitably, however, something will go wrong. A hamstring pull, a bout of the 'flu, a tactical mishap – these things have a tendency to appear from nowhere, and they feel like a cruel twist of fate. You think long and hard about the causes and the repercussions, coming up with endless hypotheses pertaining to how or why it happened.
The predominant reaction to a setback, I've found, is to question yourself – to ask what you did wrong, to identify the mistake, and to plot the course of action. As we recover gradually, we give ourselves a pat on the back. We tell ourselves we've learned the lesson the hard way – that it was through our own difficult experience that we have come to realise we must do things differently in the future.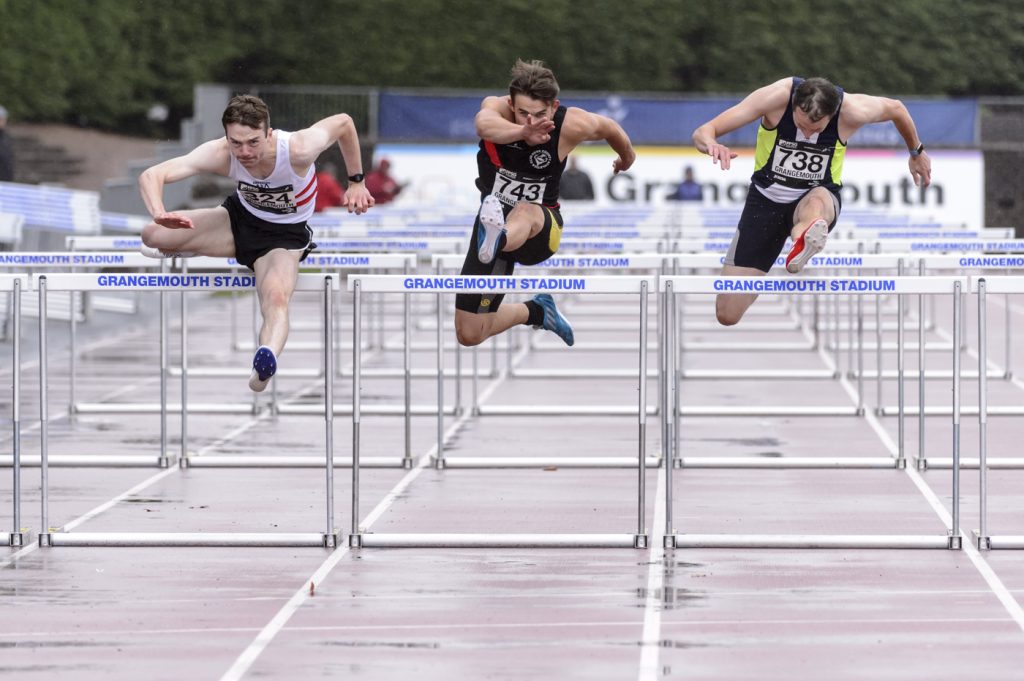 Scottish Athletics Senior & U17 Championships, August 11th & 12th, 2018 (C) Bobby Gavin - Byeline Must be Used
Less attention is paid to the opposing idea of "learning the easy way," which in many ways is what theathleteplace.com helps us do. This is also known as learning through somebody else's mistakes or experiences – sometimes referred to as learning vicariously.
If it means I can help somebody else avoid the mistakes I made, then I am more than happy to share with someone my account of a difficult experience. Something I have suffered from over the past 12 months is post-viral fatigue syndrome – or PVS. You've probably heard of this before. It's when you contract a virus which subsequently weakens your immune system over a long period, exposing you to relapses of excessive tiredness. I can quite safely say that it really isn't very nice.
In the middle of a fairly disappointing season two years ago, I remember feeling distinctly out of sorts – incidentally, on the day before the World Cup Final. I had just worked an 08:00-18:00 shift at the local supermarket, so feeling a little tired and under the weather was to be expected. "Nothing a good night's sleep can't fix," I thought to myself.
Only, it turned out to be more than just a night's sleep. I crawled into bed at around 23:00, sleeping solidly until 13:00. Something was definitely wrong. I had already arranged to meet up with a friend the following day and, not wanting to cry off, met with him anyway. I had been due to do a training session that evening after watching France beat Croatia 4-2, but instead of heading to the track after the game, I headed home. This time, I got into bed at 19:00, noticing a peculiar swelling on the right side of my face. By this time I was too tired to even bother thinking about it.
The following morning, my face was so swollen it looked like I used the 'fat' filter on Snapchat. An appointment at the doctor and a diagnosis of parotitis should have ended the 2018 season.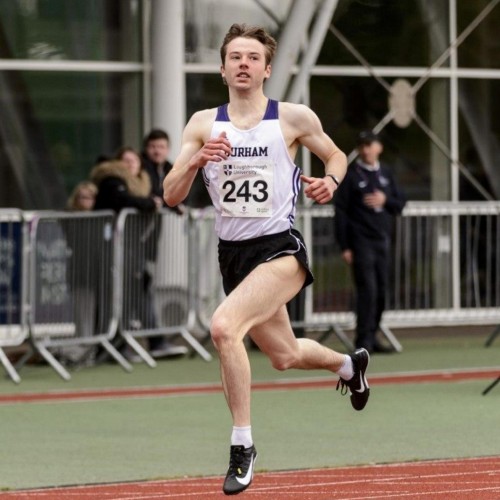 Loughborough International
As any athlete will know, though, sitting on the side-lines can be tortuous. I rested for all of three weeks – a ludicrously short amount of time given how the virus had knocked me back initially. I competed three more times that season at a British League, Scottish Championships, and a Scottish League, all pointless races during which time I should have been recovering.
I joined a new training group that autumn, but the lack of recovery time I gave myself came back to bite me. I had several relapses during the 2019 season – in October and December 2018, then in March, and July 2019. A relapse is sort of like having a mini-virus all over again, but over a shorter period of time. For me, it entailed seemingly endless hours of unrefreshing sleep, difficulty eating, and general lethargy.
During these relapses, I could be quite hard on myself. I would get confused as to why I was getting nothing done during the day, why I was always needing a lie-in, why I was always taking a nap in the afternoon. I would email or phone my course tutors to request an extension on a piece of work, or to tell them I couldn't make a seminar. But because I merely felt tired, and wasn't suffering from an illness with obviously identifiable symptoms, it often felt as if I was faking everything all along.
I had always liked to think that one of my strengths was perseverance, but when enduring PVS, this became my greatest weakness. On the days I was feeling tired, I still insisted on cycling into campus, just to get out of my rather dingy student house. I would turn up to training just to 'give it a go', even if I knew I'd realistically only be able to finish one or two reps of the session. The more I tried, the worse things got.
Once I had recovered from a relapse, I told myself I had learned my lesson, but I kept making the same mistakes. I finished the 2019 season in August and moved to Manchester the following week to begin a post-graduate journalism diploma. I joined a new group, and was determined to treat life as a trial-run for when I started a job – I studied as if I was working full-time, training on weekends and most weekday evenings. This is how life in the real world's going to be like, right? Well then, I guess I'd better get used to it.
But as the months went on, my daily routine got ridiculous. I'd get up at around 06:00 on weekday mornings and practice shorthand from 07:30 until classes started at 09:30. Some evenings I would crawl into bed listening to the Monday night football match and be fast asleep before half-time.
As for the training, it was tough – proper old school, which is just how I wanted it. I had a real group of grafters around me. I never missed a session unless I had a work placement, and no matter how much effort I put into each workout, I always told myself I could have done more. On the days when I was feeling a little jaded or under the weather, I pushed through the tiredness to get the session done. I told myself that this was how the best athletes did it.
This was not training smart. This was lunacy – not that I was ever prepared to admit it. The training sessions themselves were not the issue – the issue was that I never allowed myself to recuperate. Unsurprisingly, it all caught up with me once again, and I saw in 2020 paying the price for doing too much of what I loved doing.
Unlike Joe (Fuggle), who mentions in his story how he suffered from a mental burnout, I was still weirdly desperate to get back out on the track. With fatigue though, you find that the lightest of sessions will floor you. I would be knackered after easy tempo or grass recovery, sleeping for 10-12 hours a night. This pattern continued for months; and although I trained on and off during the spring of 2020, I finally came to my senses last summer when my GP advised I didn't train for at least 6 months. It took until things got seriously bad before I was forced to take a total physical break.
Everybody's experience of fatigue will be slightly different. But there are still some key pieces of advice that can help you avoid serious physical fatigue. If I had the chance to do everything differently from 2018 onwards, this is what I would do.
Avoiding Fatigue
Master the basics. Eat well, hydrate yourself, and get 8hrs of sleep each night as an absolute minimum. Consult a nutritionist if you need absolute assurance that you're getting the right fuel for the amount of training you're doing.
Make the most of your rest days. It goes without saying that trying to sneak in an extra session during a rest day is asking for trouble. But avoid turning Rest Days into Cheat Days. Follow the same basics you would if you were training that evening – plenty of sleep, water, and the right food.
Keep a training diary. This is really useful for tracking how hard you're training and how many consecutive sessions you're pushing yourself to the extreme. Your body should tell you your physical state, but having your thoughts concretised in writing makes a big difference.
If you're knackered, tell your coach. They will want the best for you, and if they haven't noticed that you're overtired, it's your responsibility to tell them.
Coping with Fatigue
Get an appointment with your GP, even if it can't be in person. Doctors are people you know you can trust, and hearing medical advice from them can be more reassuring than hearing it from a friend or a relative – even if what they're advising is correct.
If possible, arrange for some blood tests through your doctor. There may be an underlying deficiency as a result of a viral infection or over-training. The sooner it's identified, the sooner something can be done about it.
Keep a Sleep and Wellness Diary to monitor how you are feeling daily. I found coding each day into Green for a 'good' day, Yellow for an 'OK' day, or Red for a 'bad' day was really useful. Are there any basic activities (like cooking, cleaning, or walking to the shop) that place a real strain on your energy levels? How much sleep are you getting each evening? Are you forced to sleep during the daytime? Are there any other side-effects you're suffering from, like feeling tired after ingesting food? Recording all these indicators are not only useful for you, but the more information you can provide a specialist, the easier it is for them to help you.
Make sure people know what you're going through – family, friends, coaches, housemates, your boss. If people know what you are dealing with then they will be more understanding.
Be absolutely certain you're not going to over-exert yourself each day. Training of any kind risks prolonging the fatigue symptoms. A short walk each day – recorded in your diary – will give you an idea of what sort of physical activity is within your capabilities.
Don't beat yourself up for not maintaining a routine. Fatigue can descend over you gradually, or hit you like a brick wall – it's something you rarely have control over. If you need to sleep, then let your body sleep. It's all part of your recovery.
---
Featured Image By: Bobby Gavin
Post-Viral Fatigue and Over-Training: How to Avoid, How to Cope, How to Recover.

Written by Daniel Rees
If you feel like you can relate to this or want to discuss it, head over to theathleteplace discussion hub.
---
If you would like to collaborate, get in touch here, on socials, or at info@theathleteplace.com.
theathleteplace are proud to work with and promote athletes & content creators to produce what is needed to benefit those in need.
Got a Story to Tell or Advice to Give?
At The Athlete Place we love sharing guidance through peer-to-peer support.
If you have something that could help others, click the button below and get in touch!