Super Spikes: Are They Fair? by Trak Archives
📸 by Jodi Hanagan
---
The Nike Air Zoom Viperfly aren't the first super spikes to be shelved. Back in 1968, the Puma Brush spikes were also banned before the Olympic Games. The only difference being they were released first, 2 world records were broken competing in these spikes. Most notably John Carlos broke the 20 second barrier for the first time in the 200 metres a month before the games on a new tartan surface. 
Years later, Tommie Smith wrote in his book, Silent Gesture: "Carlos couldn't have been beaten that day, not by me or anyone. . . . It would have been his world record, but we told him not to wear those shoes." Vince Matthews then Lee Evans also broke the 400-metre record in these new spikes. The issue was the difference in performance between these spikes with 68 tiny pins and the traditional 4/6 long pin spikes.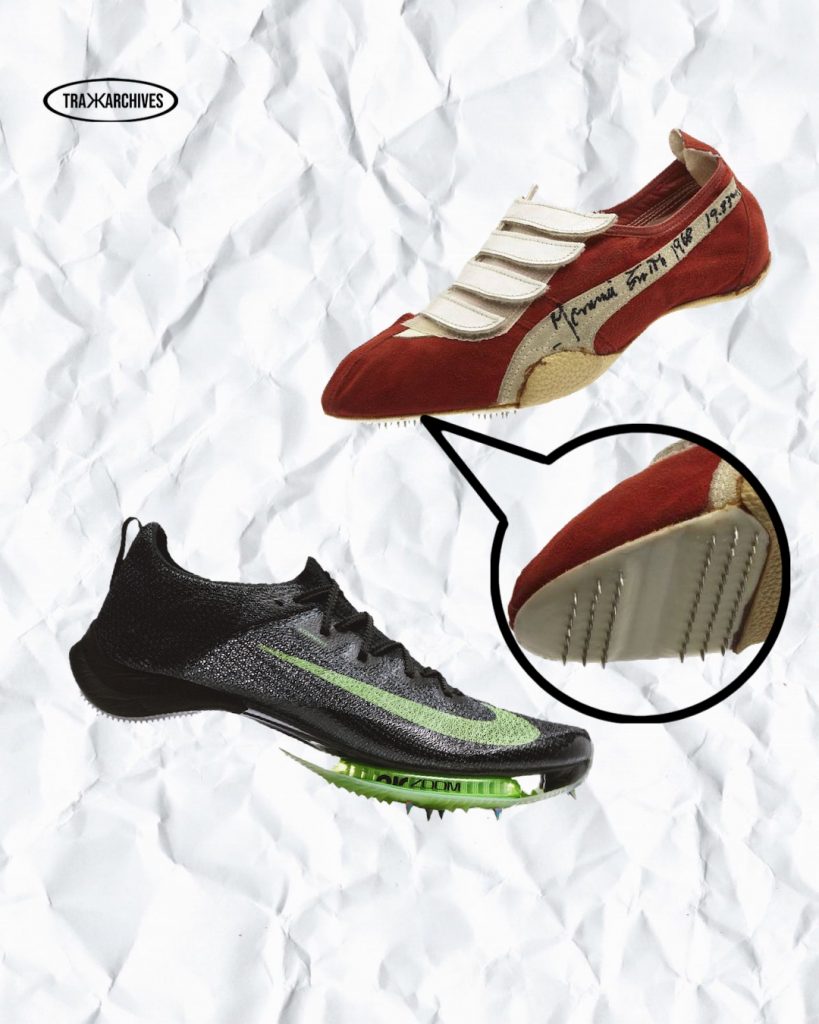 @trakarchives
Although the IAAF (World Athletics) rules stated no more than 8 spike pins were allowed, Puma hoped each row (6 in total) would count as 1 spike. The story is allegedly Horst Dassler, arguably the most powerful man in the sports world at the time, bribed and or blackmailed IAAF officials to ensure the spike was banned. Adidas couldn't risk a Puma spike dominating an Olympic Games and possibly eating into their market share.
In the case of these Nike spikes the questions seem to be, will athletes have an unfair advantage? And Is it fair that World Records are being broken with this technology? I like Jamie Webb's comparison to Formula 1 in his article on the matter. In F1 when a team improves a car's technology the other teams aren't far behind in doing the same, I believe it'll be the same with brands in athletics. More importantly, though, Lewis Hamilton's accomplishments don't take away from Michael Schumacher's, and records are made to be broken! We're not complaining about super mondo tracks improving performance because that's the aim. The legacy of great athletes isn't just how fast they run; we look at the medals they win and how long they maintain that level of dominance.
Part of our issue as a sport is that track and field meets can be boring sometimes, sports fans want to watch entertaining events. The NBA changed rules to increase the number of baskets scored and speed up the pace of the game, so it would be more appealing to a global audience. In a sport with no dunks or step overs, what's more exciting than seeing someone run faster, jump higher or throw further than ever before? Also some of these records need to be broken for obvious reasons.
Imagine a world where the Brush Spikes weren't shelved. How much faster would Usain Bolt have run if Puma had continued to develop that technology. It's important that we continue to grow as a sport and improving equipment is an important part of that.
Super spikes, are they fair? Let us know in the comments below
Got a Story to Tell or Advice to Give?
At The Athlete Place we love sharing guidance through peer-to-peer support.
If you have something that could help others, click the button below and get in touch!