Shoe Regulations Explained by Imani Esmaail
Shoe technology in athletics has made some huge advances in recent years. The new wave of shoes in the sport have been dubbed 'super shoes' they generally feature carbon plates and/or thick soles.
The developments have not been without controversy with some saying that athletes' performances have improved significantly with the new shoes and therefore the shoes should be banned. Others argue that there is not enough scientific data to prove whether the shoes are actually making athletes perform better.
As a result of the developments in shoe technology, the latest set of shoe regulations came into force on 1 January 2022 (the "Regulations").
The purpose of this post is to provide a brief overview of the Regulations. The full Regulations can be found in the World Athletics Book of Rules.
Why do the Regulations exist?
The aim of the Regulations is to balance competing principles of:
• "fairness within the sport";
• "health and safety";
• "performances (including world records)"; and
• "acknowledging that athletes wish to compete in 'high quality', 'innovative' and 'leading'" shoes.
New Balance Endurance Spikes, Image by Jodi Hanagan
What do the current Regulations say?
Availability
The shoes you want to wear in competition must have been available to purchase at least a month before they are worn in competition by an athlete. This is because prototypes and bespoke shoes cannot be worn in competition.
Any new shoes on the market which are intended to be worn in competition have to be submitted to World Athletics for examination. Normally the shoe manufacturer will do this. If your shoes have been customized, they must also be sent off for examination.
Once approved, the shoes will be published to a list of approved shoes.
Technology
Shoes cannot have more than one rigid structure (e.g. a carbon plate in the sole). In terms of thickness, below is a list of the sole thickness allowed for each event:
• 20mm: Field events and track events up to 800m (excluding triple jump and 800m).
• 25mm: Triple jump and events 800m up (and XC spikes).
• 40mm: XC shoes without spikes and shoes for road events.
• Any: Mountain and trail
What happens if you wear the wrong shoes?
Non-compliance with the Regulations can have serious consequences.
This summer Yulimar Rojas of Venezuela wore shoes that were 5mm too thick when competing in the qualifiers for the World Championships in Oregon. The reason behind this mistake was that she wore her triple jump shoes which are allowed to be 5mm thicker. This cost her the opportunity to do the long jump Oregon.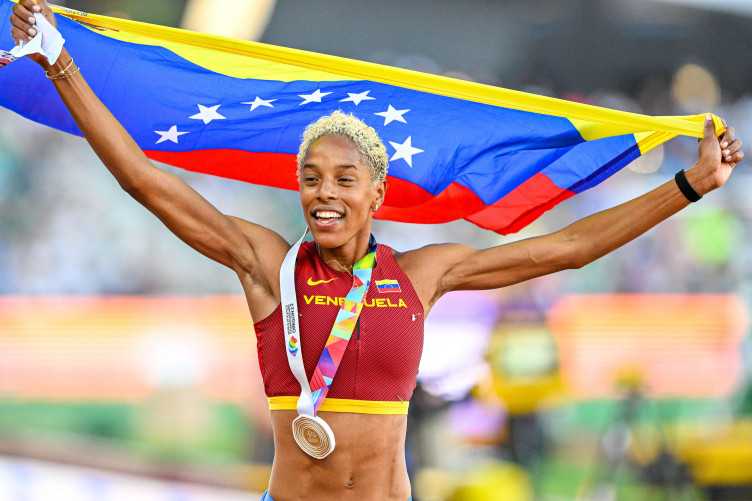 Yulimar Rojas, World Athletics Championships, Oregon 2022 (by Alamy)
Will the rules be changing any time soon?:
New rules which provide a more uniform approach to sole thickness will come into force from 1 November 2024. From that date onwards, the maximum sole thickness of all track and field shoes will be 20mm. XC spikes will also be up to a maximum of 20mm thick. For, road events and XC shoes without spikes, the maximum thickness will be up to 40mm. Mountain and trail shoes can be of any thickness.
Points to keep in mind when buying shoes:
• If you are only going to be buying one pair of shoes and you compete across multiple events, make sure that your shoes will be permitted for all of those events.
• If you have a number of shoes that are different thicknesses, make sure that you wear the correct shoes in competition.
• Familiarise yourself with the rules and ask questions if you are unsure.
Got a Story to Tell or Advice to Give?
At The Athlete Place we love sharing guidance through peer-to-peer support.
If you have something that could help others, click the button below and get in touch!